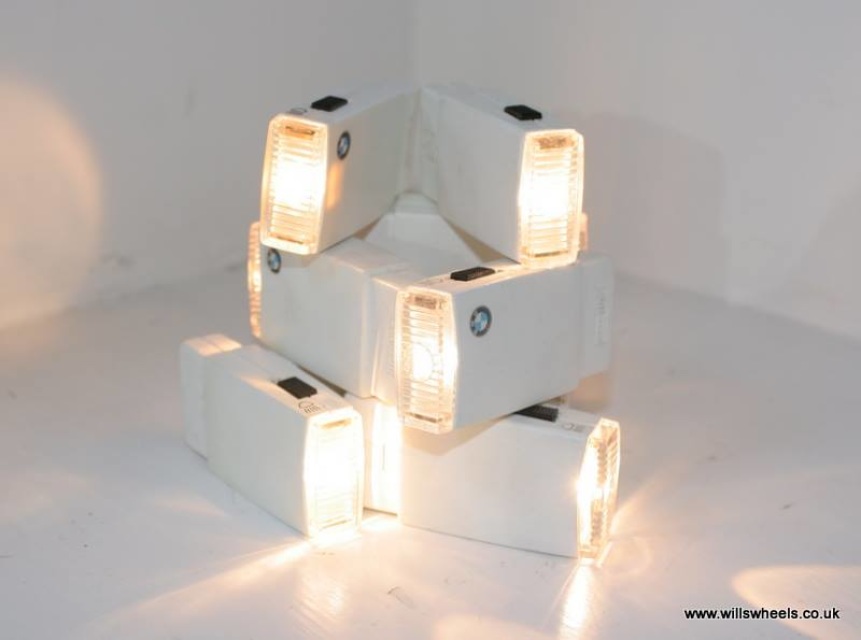 Refurbished Torch
SKU:
Refurbished Original BMW OEM Fitment Torches.
Technology has moved on, and it would be possible to make completely new internals and fit LED bulbs to these, but we chose not to, in the pursuit of originality (at least in design).
So what has been done?
Internally, the batteries are the main focus. The old Varta ones have long since been discontinued (in fact our very first batch of these all those years ago used the last of the supply of those original manufacturer batteries) and so now we have sourced the last few of another Varta battery of the same specification and output and there are of course two of these in each new unit.
The old sprung brass strip has been replaced with a new one - this is the piece that forms the connection between batteries, switch and the other parts of the circuit.
The in-line resistor has been replaced in each unit, regardless of the condition of the original, as this is what protects the batteries and circuit from overloading via the car charge circuit.
The connecting wire has been renewed and a new one soldered in.
The bulbs are the originals in 50% of the torches, but only after going through a testing cycle, to make sure they are OK. There are new bulbs in place in the other 50%.
Externally, we have cleaned each case up thoroughly. This does not mean a quick wash in a sink - every casing has been cleaned in solution and then undergone a micro-mesh cleaning process to really get them back to great condition, of course leaving the BMW logo intact as much as possible.
Every lens has been finely buffed then dipped in a special clear lacquer formula (not nail varnish or car paint lacquer).
The thumb-switch has been cleaned as well, and the backing plate where the charging points are situated has also been cleaned inside and out, and the charge contacts freed from any corrosion developed.
Then they have been glued back together with a liquid poly-glue similar to that used by BMW originally - no superglue here, as that just fails in a couple of months.
What results is a beautiful, fully usable OEM torch suitable for use in any E24, E28, E30, E31, E32, E34, or E36 as fitted originally.
Plenty more pictures available as well should the need arise.
We are offering these at £38.50 including post within UK/Ireland, or £72.50 for two.
For US/Canada, we are offering these at US$62.50 shipped, or $115 for two.
We can ship worldwide, any other location please just ask.